Rings, watches, bracelets, and belts—we think of them as indispensable fashion accessories. A bit of bling can put the finishing touch on an outfit for a night on the town, but what about a day in the lab? Wearable technology is transforming the landscape of physiology research by enabling real-time, noninvasive data collection in a variety of settings.
For many, their first introduction to the potential of wearable physiology technology came through smartwatches and fitness bracelets. These consumer electronics offer a convenient and affordable way for anyone from professional athletes to fitness hobbyists to monitor their health data, which often includes pulse, blood oxygen levels, steps, and other basic physiological signals.
As the underlying technology has become more sophisticated, researchers have embraced the convenience offered by such devices. Portable, unobtrusive, and wireless wearables have entered the research device market and now allow a range of signals to be monitored under a variety of circumstances and environments.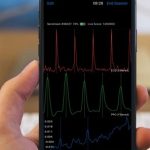 BIOPAC recently expanded its established line of wireless devices by introducing the Research Ring, a wearable device with a specific focus on physiological signals such as Photoplethysmography (PPG), Electrodermal Activity (EDA), Electrocardiography (ECG), and body temperature. Products like the Research Ring allow the capture of high-quality data via an unintrusive and accessible wearable device, making them ideal for a wide range of potential applications. These include psychophysiology research, sports and exercise studies, sleep and stress research, and aging and wellness studies, to name just a few.
BIOPAC is no newcomer to providing the research and education communities with wireless and portable solutions designed for gathering physiological data. The Bionomadix line of wearable remote monitoring devices set the standard for such products and have been used in thousands of cited studies. For example, researchers conducting a study of on-the-job stress among healthcare professionals collected EDA and PPG signals using a BIOPAC wireless PPG and EDA amplifier and a wireless respiration with ECG amplifier. Wireless technology proved to be a key component of the study's success as it allowed the data to be gathered without interfering with the immersive quality of the simulated work environment.
A team of researchers from the University of Porto in Portugal utilized a BIOPAC wearable physiological signal logger to collect EDA and ECG data while studying the correlation between physiological signals and expressive writing. In the study, published in the journal Experimental Psychology, participants were able to engage in writing exercises without the distraction of more cumbersome and intrusive wired solutions.
BIOPAC's latest entry into its line of wearable wireless data collection devices promises to add greater convenience and versatility to this burgeoning sector. For more information on the new Research Ring, check out the recent webinar BIOPAC hosted with ring developer and partner, Senstream.
---
If you are interested in adding wearable devices to your next physiology study, reach out to your regional sales representative today to learn which BIOPAC wireless solutions are right for you.